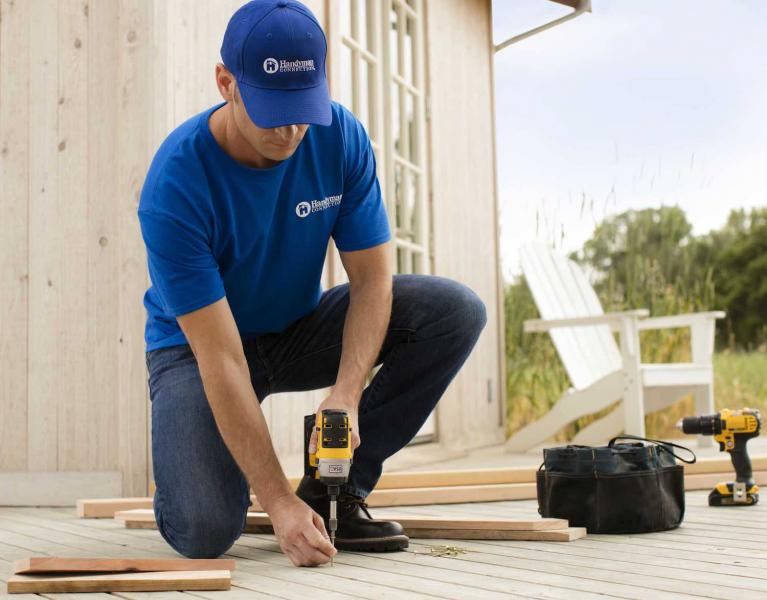 McKinney Deck Repair
Is your cracked, damaged, worn out deck depressing you? Handyman Connection of McKinney has the knowledge and experience to get your deck looking as good as new!
Your deck is undoubtedly an enjoyable part of your home for you. You've probably spent many hours, and weekends, out on the deck, enjoying the beautiful outdoors. Part of what makes the experience so beautiful is your solid, sturdy beautiful- looking deck.
Decks are exposed to the elements, and as such, are in danger of extreme wear and tear. Before long, you could find cracks, peeling paint, damaged decking, as well as other possibly dangerous issues with your deck that could actually cause you or others an injury.
Call a Handyman Connection of McKinney expert deck repair contractor at 972-627-4498 for an estimate on McKinney deck repair.
When you schedule an appointment with Handyman Connection of McKinney for your deck repair, our handyman will arrive at your residence with all the tools and materials necessary to make sure that the repairs are done right the first time. We can get your deck ready for the upcoming outdoor seasons. We will sand, and scrape every inch of your deck, and stain or seal it to protect it from the elements.
Remember, if you wait too long to repair the deck, the damage could set in so deep that you may have to replace the entire deck in the future. Replacement of your deck is a much more expensive option. Don't wait that long. Call an expert deck repair service contractor at Handyman Connection of McKinney and learn how we can fix your deck. Many types of deck damage can easily be repaired, and we can simply restore the deck to its former glory. However, it is important to act fast.
Contact us today and schedule a consultation with a deck repair contractor in McKinney!